Short Light Commercial Rack Box 2
$0
Out of stock
Customer Reviews
Write a Review
Ask a Question
03/18/2020
Anonymous
CA
Great Rack!
Great Rack! Its solid and doesnt really move. After purchasing this, I dont think I can go back to safety pins, the straps are great.I bought the short rack since I have a short ceiling. Now, i am 5'8" and am a few inches from smacking my head against the pullup bar on squat walk out. If you're above my height, I'd recommend getting the taller version. 5'8" and under and it's perfect.The box was a little damaged. The rack had a few scratches on arrival but I really don't mind, it's going to get beat up anyway.
Hello,Thanks for the wonderful review. It warms our hearts knowing that you are happy and satisfied with your B.o.S rack. Again, thanks for the awesome review. Have a great day!
03/17/2020
Rolando M.
CA
Great rack
I got he ligth commercial rack 5.1 with the pull down attachment. Great improvement from my previous half rack (different brand). This is build like a rock. The included sandwich j cups and the roller jcups just put it one level above the competition. My only change would be to enable the pull down cable so it can be use for exercises where the angle is not straight down, but more forward
Hello Rolando,Thanks for the 5-star rating. We take pride in the quality of our products, this rack is definitely the best bang for the buck. Again, thanks for the awesome review. Let the gainz begin!
JT
03/11/2020
Jeremy T.
US
5.1 Light Commercial Rack
This item is exactly what I expected it to be. High quality materials that were easy to assemble. I couldn't be happier! My wife and I quit our gym memberships and decided to build a home gym. This rack was the perfect start.I compared other racks in this range but went with BoS because they're local and the company seems very transparent and personable.Order came as expected and was in great shape out of the box. It would've been cool to get a sticker to throw on the water bottle to help me get the BoS name around.
Hello Jeremy,Thanks for the 5-star rating. It really warms our hearts knowing that you are enjoying your B.o.S equipment. Again, thanks for the awesome review. Have a great day!
02/14/2020
Anonymous
US
Light Commercial Rack and FID Bench
I was fortunate to see the equipment with Andrew from West Indy Barbell. He was kind and informative and went forward with the purchase based on my interaction. Easy assembly with straight forward youtube videos made for quick work; 2 hours rack 1 hour bench. Although the paper instructions were clear too. Did Chest one day, Back the Next and Legs on day 3. This rack is awesome. Bar height adjustment slots are easy, pull up grips with various positions and solid feel and the roller for easy bar maneuvering for squats is smooth. Excellent products and service . Thank You
Hello,Thank you for the 5-star review. We take pride in the quality of our racks as well as our customer service. Again, thanks for the review. Have a great day!
02/10/2020
Chris D.
Canada
Excellent Rack, Excellent Price, Excellent Customer Service!
I recently ordered the 72" short version of this rack as I have 8" ceilings and I wanted the ability to do chinups/pullups without putting my head through the finished ceiling. I also ordered the bench, olympic bar, EZ Curl bar, weights, plate pegs, plate tree holder, and a few of the other attachments.Shipping to Edmonton took all of 3 days and the pickup process at the depot was easy and pain free. The only problem was the missing plate tree, but customer service got back to me within 1 business day and offered me a refund, exchange or replacement. This alone impressed me the most, I had read some reviews of the company experiencing growing pains and orders taking months, but sure enough I had my stuff within 4 days of clicking order - color me impressed. The Skid arrived undamaged and we cut everything down and loaded it into the F-150. Note: the package box is 84" inches shipped even with the 72" rack so make sure you have the box space for it and a strong buddy to help you load it.The rack itself was easily assembled via the video guide, in fact assembling the bench was far far more annoying, but I highly recommend watching the videos as the in box instructions are worse than IKEA and offer virtually no insight as to how to assemble the product. All you need is a socket wrench and a 24mm socket.The floor tiles are WORTH IT, the surface is high quality and they fit together well without any flaking or irregular edges, also a surprisingly minimal smell. ROGUE wanted nearly $1300 shipped for their tiles, so instead I ordered the BOS ones for $400 and ordered the ROGUE Abmat crash pads to deadlift off without obliterating my concrete floor. I would have ordered the BOS one but it was out of stock.The welds are of good quality, I was nervous given that the company uses Chinese steel and I am averse to dying due to a broken pin and crushed neck. The rack is SOLID, as someone who is 6'3 I planned to use the outer uprights to squat and the inside of the rack itself for bench press and other excercise, this is a huge relief. If you are over 6" I would recommend seriously considering the full size rack if you want to squat inside as you will nail your head on the cross bar otherwise, in my case it was a trade off and I knew what I was getting into. The safety straps are AMAZING and offer the ability to do sets to failure without a spotter and I am actually completely impressed/pleased with how well they work.The bars themselves use high quality bearings and are probably the best on the market right now for the price, I was actually pretty shocked at how good the worksmanship is, I have a friend with ROGUE equipment and after briefly using my stuff he was COMPLETELY pissed that he paid almost 3 times what I did for my setup. Sure ROGUE uses higher grade steel and has the name to go with it, but at the end of the day this setup would have cost me over $4500 ($1000 in shipping alone) for the SML-1 and I am completely satisfied with both the quality and durability of the equipment I ordered, plus shipping is FREE with BOS, that is almost insane given their competition.Do yourself a favor and give these guys a look, you won't be disappointed!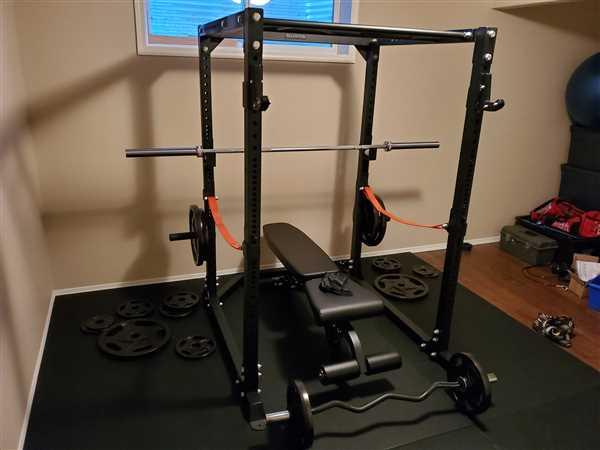 Hello Chris,Thanks for the 5-star review. We take pride in the quality of our products and customer service. Again, thanks for the amazing review. Let the gainz begin!
Additional information
| | |
| --- | --- |
| Weight | 99 lbs |
| Dimensions | 47 × 20 × 4 in |