/
/
/
/
Competition Kettlebell Custom Set
Competition Kettlebell Custom Set
Craft your own personalized Competition Kettlebell Custom Set by choosing a minimum of 3 bells, and get 10% off.
     FREE SHIPPING
     TRUSTED SINCE 2010
     EXCELLENT WARRANTY
   FREE SHIPPING
   TRUSTED SINCE 2010
   EXCELLENT WARRANTY
Competition Kettlebell Custom Set – 8kg-32kg By B.o.S
Competition kettlebells are perfect for any kettlebell workout. Originally designed for use in Kettlebell Sport (or GS, short for Girevoy Sport), they are now commonplace in gyms across the country.
Kettle bells are the Best Workout Tool for an All-in-One Workout
The main benefits of training with kettlebells is that they are:
Note: Because of the hollow cast system, 4, 6 and 34-46kg have 33mm handles and are not hollow core. | Warranty: Lifetime
Competition kettlebells are the best kettlebells you can buy:
Customer Reviews
Write a Review
Ask a Question
05/16/2022
Anonymous

CA
Competition Bells
Excellent Bells, exactly what you expect.
04/08/2022
Dina S.

CA
10 kg competition kettlebell
Fast shipping, I received it in a perfect condition. Grateful. The quality is amazing!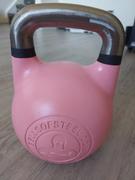 05/19/2022
Bells of Steel
Hey Dina, Thanks for the great review! Always happy to hear when shipping is quick and packages arrive safe and sound! Time to put that KB to work! 😀 Thanks again, and happy lifting! Kat and the B.o.S. Crew
03/23/2022
David F.

CA
Excellent Kettlebell !
Was hesitant at first because I've never heard of this brand before, but am very happy with the purchase, the delivery, and the product ! I would easily recommend Bells of Steel if future . . .
03/30/2022
Bells of Steel
Hi David! Thanks for the review on the kettlebell. Happy to hear you are pleased with the purchase and delivery. We appreciate your business and we would love to provide you with more equipment in the future! Enjoy your gainz! Irene and the B.o.S. Crew
02/26/2022
Carole V.

CA
Great product
Bought at the same time as the 12 kg fast delivery excellent product with a great price Also bought from Kettlebell King BOS same quality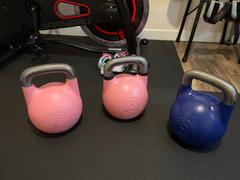 03/05/2022
Bells of Steel
Hi Carole, Thanks for the review! Happy to hear you love the kettlebells you got there and keep up with the gainz! Happy lifting! Irene and the B.o.S. Crew
02/09/2022
Shaun O.

CA
28kg KB
Looks and feels great! Great service -- thanks!
03/17/2022
Bells of Steel
Hi Shaun, Thanks for the review on our Kettlebell! Happy to hear you love your purchase and we would love to supply you with more of our products! Get your gainz on! Thanks for the review again! Irene and the B.o.S. Crew