/
/
/
/
Multi-Purpose Olympic Barbell – The Utility Bar
Multi-Purpose Olympic Barbell – The Utility Bar
The Bells of Steel Multi-Purpose Olympic Barbell is the perfect bar for powerlifting and Olympic weightlifting exercises.
In Stock
-
Frequently Bought Together
This item:
Multi-Purpose Olympic Barbell - The Utility Bar
     FREE SHIPPING
     TRUSTED SINCE 2010
     EXCELLENT WARRANTY
   FREE SHIPPING
   TRUSTED SINCE 2010
   EXCELLENT WARRANTY
A reliable, well rounded Olympic barbell for an awesome price.
Our next-generation basic bar, the Multi-Purpose Olympic Barbell is designed to be an all-around solution for bench press, squats, deadlifts, and the Olympic lifts (cleans, jerks, and snatches). It's an excellent option for well-rounded garage gym athletes, as well as commercial gyms.
As a generalist bar, The Utility Bar is designed for people who don't adhere to a particular strength sport and just love an excellent bar. With a 28.5mm diameter, it's just a tad thicker than an Olympic weightlifting bar (28mm diameter) and a smidge thinner than a powerlifting bar (29mm diameter). Brass bushings means the sleeves and no bearings makes for a smooth but not over-rotation and an ultra-secure snap ring is used to keep it all together. A medium-light knurl won't chew your hands up when power cleaning, but complemented with knurling in the middle means the bar has a better grip when squatting.
Featuring both Olympic and powerlifting marks, hand positioning is made easy for whatever movement you're doing that day. Lightly ribbed sleeves help keep your plates from shifting during your workouts.
Specs
| | |
| --- | --- |
| Bar Weight | 20 kg/44 lbs |
| Diameter | 28.5 mm |
| Total Length | 2,200 mm/86.6″ |
| Loadable Sleeve Length | 410 mm/16.1″ |
| Knurl | Medium |
| Knurling Marks | Weightlifting & Powerlifting |
| Center Knurl | Yes |
| Shaft Finish | Black Zinc |
| Sleeve Finish | Hardened Chrome |
| Sleeve Assembly | Bushings & Snap Rings |
| Max Capacity | 1,000 lbs |
| Tensile Strength | 190,000 PSI |
| Warranty | Limited Lifetime Warranty |
And to back it all up, it comes with aLimited Lifetime Warranty
against bending/breaking.
As Review on garagegymlab.com
Frequently Asked Questions
It has a 28.5mm diameter and 2,200mm/86.6″ length.
It has a black zinc shaft coating with a bright zinc coating on the sleeves for enhanced resistance to corrosion (rust).
It has a 1,000lb capacity.
In the box, you'll find the barbell itself and a coating of oil in order to further minimize any oxidation during shipping and storage.
Covered under our Limited Lifetime Warranty guarantees that your bar will not bend under normal use, and protects against defects in material, function and workmanship. 
Customer Reviews
Write a Review
Ask a Question
Filter Reviews:
knurling
barbell
quality
price
home gym
finish
lifts
bars
purchase
power bar
05/10/2022
James M.

CA
Utility bar
Fantastic bar. Lifting is so much more enjoyable now that I have a quality bar in my home gym. Squatting ✔️ Benching ✔️ Deadlifts ✔️ Military press ✔️Just enough whip and I prefer that the knurling is pretty mild as I pull hookgrip, so it won't tear my thumbs apart. Looking forward to smashing many PRs with this bar.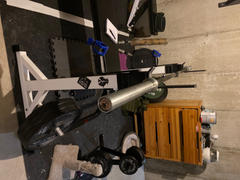 05/18/2022
Bells of Steel
Hey James, Thanks for the 5 star review. Swole is the goal and this bar could not be a better for all around gainz! Squatting ✔️ Benching ✔️ Deadlifts ✔️ Military press ✔️ you name it this bar does it. Thanks again, The B.o.S. Crew
04/12/2022
Anonymous

US
Awesome barbell
Great quality, super knurl and great to work out with.
05/19/2022
Bells of Steel
Hey there, Thanks for the five-star review. The Utility Bar is a great all-around bar! Time to put it to good use! Thanks again, and happy lifting! Kat and the B.o.S. Crew
04/11/2022
Anonymous

US
Knurling and bar overall are great. Exactly what I was looking for at a great price
05/19/2022
Bells of Steel
Hey there, Thank you for the great review! Your goal is to build strength and with this very versatile bar you should be well on your way. The knurling is a great feature and the great price helps. Happy Lifting, Andrew and the B.o.S Team
03/18/2022
David B.

US
Great bar, great price, 5 Stars for Bells of Steel
The multi-purpose bar was my first Bells of Steel purchase and I am very happy with it. Well packed, arrived quickly and is just a really nice bar. Great knurling, nice finish, very nice to use. I would purchase another bar from them in the future.
03/18/2022
Bells of Steel
The utility bar is great for any lifter, no matter the sport. It can withstand abuse you put it through while feeling really nice in the hands. Enjoy the gains! Erica and the B.o.S Crew!
03/01/2022
madison b.

US
definitely worth it
bought it last year august ish needed a bar that didn't cost a arm n leg. probably my best purchase to date
03/17/2022
Bells of Steel
Madison, " probably my best purchase to date " The utility bar is a great value for the quality of bar. We are glad you love it and thanks for the great review. -Belll of Steel