Y Dip Attachment
$99.99
A heavy duty easily removable Y dip attachment.
In stock
ETA Dec 6th
Customer Reviews
11/29/2019
Thomas K.
Canada
Great product, great price.
Great product. Quality construction.
11/29/2019
Bells of Steel
Hey Thomas, ​ ​Thanks for the wonderful review. We take pride in the quality of our products. Again, thanks for the great review. Hope to see you again soon!
10/22/2019
Mark
Canada
Solid lat pulldown attachment great support
Have had this now for some months and put it to some work and overall has proven to be a solid attachment. Cable is good length and the attachments it comes with are quality. Took a bit of adjustment of pulleys and grease the poles to get good smooth movement. not a whole lot to say as it does its job! The only real downside/problem I have with this is the design of the top. The steel bar the cable comes out of at the top is solid at the end so cable has to come out downwards. This means, at least for anybody even moderately tall, it can't really be used for anything where you pull more outwards rather than down. If you pull outwards at all it'll j ust shred the cable on metal edge up there.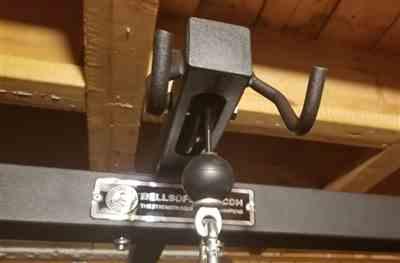 10/23/2019
Bells of Steel
Hey Mark, ​ ​Thanks for the solid review. We are glad that you are satisfied with the Lat pulldown. We appreciate the feedback as we always strive to improve. Again, thanks for the wonderful review. Hope to see you again soon.
Sloppy finishing
I really like the dip attachments and the flexibility with adjusting the grip width. I only have two complaints and they are in regards to the craftsmanship. First, I could hear some debris in the tubes and a lot of it fell out of the small openings in the joints without welds onto my floor as I unpacked the product. The debris looked like little metal balls, the size of grains of sand, so I'm assuming it was from the welding. I was able to shake out the rest and throw it away. My second complaint is in regards to the positioning of the holes for the screws that hold the attachment to the power rack. One hole is pretty much vertical, which I presume is how it's supposed to be, but the other whole is off center so the screw goes in at an angle. The screws still do their job and keep the attachment from sliding around, so I'm not concerned for my safety. I thought it was worth mentioning so these issues are addressed for future production.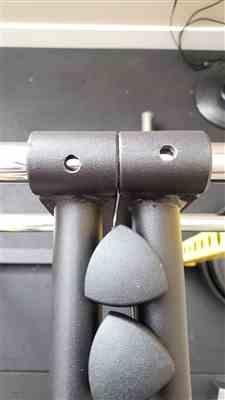 09/03/2019
Bells of Steel
Thanks for taking the time to review and provide feedback. I apologize about the sandblast balls, these are used for cleaning the steel before painting and occasionally get stuck in the product. I will certainly have the screw problem addressed with our factory. Thanks again!
08/23/2019
joshua j.
US
High Quality, Lots of extras and included features at a FANTASTIC price!
I've had it about a month and put in a dozen workouts. Pros: The rack is the best on the market for the price and the Lat pulldown attachment addition is phenomenal! Installation was a breeze with the youtube videos from Andrew. The Lat Pull down performs as well as any high dollar commercial unit I've used at a gym. The 2 included bars and the padded horizontal knee support bar were a huge bonus! Rollers and cables glide and run smooth. Literally dozens of exercises can be done with this attachment. So easy to use my wife loves it as well. Great design and awesome quality! Cons Delivery was the only negative, box was beat up and most of the parts were scratched up. But its weight lifting equipment and will see some hard use. Light sanding and spray paint and its back to new.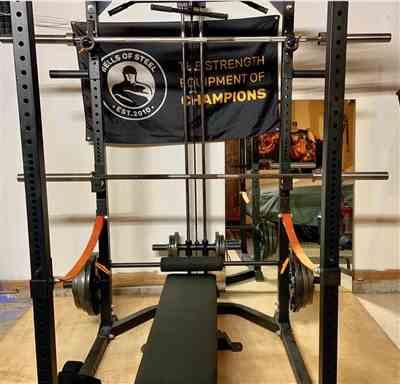 08/25/2019
Bells of Steel
Hey Josh, ​Thank you for the great review. I'll let Kaevon (the founder) know your compliments as he personally designed the rack :). I appreciate your feedback about the shipping, shipping is an ongoing battle and we constantly strive to refine and improve. Thanks again for your support. Let the gainz begin!
08/07/2019
Anonymous
CA
Perfect
Perfect additional set of hooks for my rack
08/08/2019
Bells of Steel
Hey, Thank you for the sweet review. Our J-hook is a perfect addition to your rack and it is built to last. Again, thanks for the great review, it really means a lot to us. Happy Lifting!
A heavy duty Y Dip power rack attachment
A heavy duty Y dip power rack attachment with locking pin that adjusts easily. Can be used on Residential rack 4.1 and above, Light commercial rack 5.0 and above, folding rack 2.1 and above, utility rack, Yoke, Brute 4.1 and above.
Additional information
| | |
| --- | --- |
| Weight | 15 kg |
| Dimensions | 9 × 20 × 24 in |