Open Trap Bar / Hex Bar 3.0 – Rotating Sleeves By B.o.S.
$249.99
The trap bar 3.0 is an open trap bar with a built-in deadlift jack.
In stock
Customer Reviews
Write a Review
Ask a Question
Filter Reviews:
knurl
quality
price
customer service
shipping
value
knurling
sleeves
purchase
trap bar
01/17/2020
Glenn L.
US
Excellent Value
I have been considering a trap bar for at least a year, because it takes some of the stress off the low back on dead lifts . I concluded I wanted a open ended bar for the additional exercises it allows. This is a excellent bar, by far the best value. I love the self loading feature. The loading area for plates is about 10 inches as opposed to 16.5 on a regular bar. If you only owned bumper plates it might be difficult to get 400 lbs on it. That's is the only negative. The opening on the open end is 17 inches which is plenty for all but the largest of the power belly.
Thanks so much for the review, power bellies everywhere will breathe a sigh of relief!
01/09/2020
John T.
CA
Solid
So far enjoying this tool and look forward to using it with clients. Sleeves could be a touch longer, Iron plates required to go heavy. Powder coat was a bit drippy but over all a great practical piece of equipment. Would recommend to anyone looking for an affordable trap bar with the cool bells and whistles 👍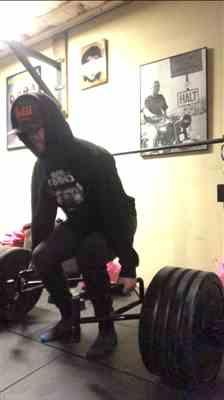 Hey John,Thanks for the great review. We are happy to know that the trap bar met your expectations. Again, thanks for the positive review. Have a great day!
01/09/2020
Anonymous
CA
Hex Bar
The bar functions great. I love the fact that the open bar allows for lunges and farmer carries. I was disappointed in the condition of the bar when it arrived, the packaging was destroyed, the bar was protruding from the box and the ends of the bar got scratched up. I contacted the support team to let them know and they were very responsive and did offer compensation (I declined). Packing seems to be a long standing issue that needs to be resolved, it appears to have gone on for a long time. Overall it's a great product that unfortunately was damaged in shipping which ruined that 'open box' experience we like to have when receiving a new toy.
Hello,Thanks for the review. We are glad to know that you are happy with the quality of the bar. About the condition of the boxes, carriers can be quite rough at times and we are doing our best to improve our shipping method. Again, thanks for the review. Have a great day!
01/06/2020
Anonymous
US
Hex Barbell
The hex barbell is the best engineered barbell available in a small footprint I could find after much searching. The barbell has excellent ergonomics. The sleeves can fit rogue training bumpers with the large machined steel centers. Like the rotating collars vs non. Fyi fellow customers the barbell took a couple of months to ship out. Had outstanding packaging. This is a real review. Worth the wait.
Hello,Thank you for the 5-star review. We are glad that the hex bar exceeded your expectations. Again, thanks for the awesome review. Have a great day!
01/04/2020
Terry L.
United States
Excellent
I've had multiple trap bars and I've finally found the one I know will last me! The jack feature works as I had expected. I had another trap bar that raised the sleeves but then the impact after each rep fell on rubber footies of the bar rather than the bumper plates which didn't seem sustainable. This bar is also not bulky which is important in a garage gym environment. I saw a couple other open trap bars (like Eleiko), but this one is several hundred dollars cheaper. I will strongly recommend this to anyone looking for a trap bar.Also this was the first purchase I made with Bells Of Steel and their customer service and professionalism were great.On a side note the box was beat up with parts of my bar poking out of the torn box but it didn't affect my product. It feels like the shipping Quality was cheaper to save on costs (based on browsing multiple reviews) but it was a calculated risk I took
Hello Terry,Thanks for the 5-star review. We are glad to know that the trap bar exceeded your expectations. Again, thanks for the awesome review. Lift on!
The trap bar, also known as a Hex Bar, is one of the greatest innovations in strength training equipment.
The Trap Bar often called a Hex Bar, is one of the best specialty bars for building strength and developing power in the deadlift. 
Our latest, designed in house model, has three core benefits that will make training with your new trap bar a dream. 
It has a built-in deadlift jack – a feature never seen before on a home gym hex bar, and is usually reserved for abhorrently expensive models. The Bells of Steel Open-Ended Trap Bar has a pair of built-in bar jacks. By rotating the bar vertically like a lever until it's sitting on the feet of the jacks, the weight plates end up mere inches from the floor. This allows you to add and remove plates with total ease. The entire process is effortless; no longer will your trap bar be neglected and left on the sidelines simply because of the time and effort required to load and unload the bar.

 An open-ended frame – This ingenious design offers several benefits over the traditional, closed-frame design; the most important of these being, of course, access to far more movements than before. By opening up the front end of the bar, it is now possible to use your trap bar for split squats, Romanian deadlifts, weighted carries, lunges, and more, while still being perfectly balanced for your deadlifts and shrugs.

Rotating sleeves – we firmly believe that if it's a barbell, the sleeves should rotate. Unlike almost any other trap bar on the market, our trap bar features rotating sleeves. To keep the bar more compact for both storage and shipping, the sleeves are a little shorter than full-length barbell sleeves; however, the plate block has been made extra thin, allowing for a full 7 B.o.S.45lb  iron plates to be loaded on each side. Fit even more calibrated plates with a maximum weight of 700lbs. 
The Benefits of a Trap Bar (Hex Bar)
It is considered by many to be both superior and safer than deadlifting with a traditional straight bar, as the load is centred and more balanced with a Trap Bar, which puts much less stress on the spine.
Here are just a few reasons why it should be your go-to specialty barbell:
Trap Bar deadlifts produce less strain on the lumbar spine than conventional straight bar deadlifts. This makes Trap Bar deadlifts useful not only if you have a pre-existing back injury (or if you just want to give the lower back a break without skipping their deadlift days), but also if you are a beginner who is still trying to develop baseline strength levels.

Training with a Trap Bar develops power as well as raw strength, and the carry-over from this kind of training into other sports is undeniable – Olympic weightlifters, Strongman athletes and powerlifters, and professional athletes alike can all benefit from incorporating Trap Bar deadlifts into their training.

Trap Bars with dual-handles like the B.o.S. Open-Ended Trap Bar, when used with the higher handles, can allow lifters with limited mobility due to an injury to still practice, perform, and perfect their deadlift. The higher handles are also useful for you if you're having trouble keeping a flat back, as the higher starting point and shorter range of motion makes it easier to train this position and build some hip and back strength before starting to pull from the floor.

Trap Bars are just extremely versatile training tools. Standard deadlifts are only their primary use, but you can also use your Trap Bar to train: 

Farmers Carries

Romanian Deadlift

Single-Leg Deadlift

Shrugs

Seated Deadlift

Walking Lunges

Adding a Trap Bar into the mix is just an excellent way to spice up your training and expand upon your training variety. Trap Bar deadlifts are mechanically different than a straight bar deadlift so that they will work your hips, quads, and back differently.
You will not find a nicer, more versatile, higher-performance Trap Bar that you love at a better price anywhere, and the B.o.S. Open-Ended Trap Bar, the only economical trap bar with a built-in bar jack!  See the image for the exact dimensions. 700lb warrantied weight capacity. Weighs 57lbs. 
Additional information
| | |
| --- | --- |
| Weight | 58 lbs |
| Dimensions | 61 × 24 × 9 in |