Rack Lat Pulldown / Row Attachment – Light Commercial/Residential Power Rack
$199.99
A multifunctional lat attachment and low row that fits on the light commercial rack or residential rack.
In stock
Customer Reviews
Write a Review
Ask a Question
Filter Reviews:
quality
price
movement
market
wife
bars
workouts
plates
back
attachment
10/22/2019
Mark
Canada
Solid lat pulldown attachment great support
Have had this now for some months and put it to some work and overall has proven to be a solid attachment.Cable is good length and the attachments it comes with are quality. Took a bit of adjustment of pulleys and grease the poles to get good smooth movement. not a whole lot to say as it does its job!The only real downside/problem I have with this is the design of the top. The steel bar the cable comes out of at the top is solid at the end so cable has to come out downwards. This means, at least for anybody even moderately tall, it can't really be used for anything where you pull more outwards rather than down. If you pull outwards at all it'll j ust shred the cable on metal edge up there.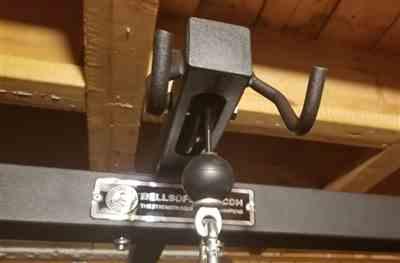 Hey Mark, ​ ​Thanks for the solid review. We are glad that you are satisfied with the Lat pulldown. We appreciate the feedback as we always strive to improve. Again, thanks for the wonderful review. Hope to see you again soon.
08/23/2019
joshua j.
US
High Quality, Lots of extras and included features at a FANTASTIC price!
I've had it about a month and put in a dozen workouts. Pros: The rack is the best on the market for the price and the Lat pulldown attachment addition is phenomenal! Installation was a breeze with the youtube videos from Andrew. The Lat Pull down performs as well as any high dollar commercial unit I've used at a gym. The 2 included bars and the padded horizontal knee support bar were a huge bonus! Rollers and cables glide and run smooth. Literally dozens of exercises can be done with this attachment. So easy to use my wife loves it as well. Great design and awesome quality! Cons Delivery was the only negative, box was beat up and most of the parts were scratched up. But its weight lifting equipment and will see some hard use. Light sanding and spray paint and its back to new.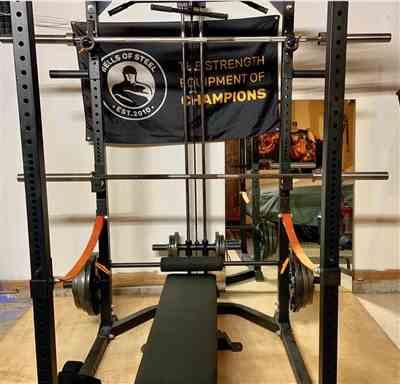 Hey Josh, ​Thank you for the great review. I'll let Kaevon (the founder) know your compliments as he personally designed the rack :). I appreciate your feedback about the shipping, shipping is an ongoing battle and we constantly strive to refine and improve. Thanks again for your support. Let the gainz begin!
07/30/2019
Tom K.
CA
Tom's Lat/Row Review - July 2019
Nice piece of kit. Takes up a bit a of room as you have to allow for the plates as well...... so take that into account when measuring out your space requirements.
A simple, space saving attachment to maximize your rack.
A multi-purpose and adjustable pulley system that attaches to the back of your rack allowing you to do seated rows, lat pulldowns, biceps curls amongst a host of other pulling based exercises. Includes a lat pulldown bar attachment and a short bar attachment and leg holder. Fits the Residential Rack 4.1 and light commercial power rack 5.1
Includes lat pulldown bar, short bar and a leg brace, the leg brace is also compatible with our lever arm attachment which turns your lever arm attachment into a barbell style lever machine and can also be used for hip thrusts.
Additional information
| | |
| --- | --- |
| Weight | 50.6 lbs |
| Dimensions | 85.8 × 11.6 × 5.1 in |