Utility Barbell – Multipurpose Bar – By B.o.S.
$199.99
A reliable, well rounded Olympic sized barbell for an awesome price.
In stock
Customer Reviews
Filter Reviews:
weights
bench
price
value
many
YMCA
press
experience
knurling
garage gym
11/27/2019
Luke
Canada
Changing my life!
Bar showed up heavily protected and packaged, so it was pristine! This is my first REAL barbell for my garage gym and it feels great, looks great, and has reignited my need to lift! Thanks BOS, a great canadian product, without the insane price tag of the other pro level barbells from the states.
11/27/2019
Bells of Steel
Hey Luke, ​ ​Thanks for the 5-star review, this really made our day. We take pride in the quality and durability of our bars. Again, thanks for the awesome review. Lift on!
10/19/2019
David R.
US
Just awesome
World class barbell
10/21/2019
Bells of Steel
Hey Richey, ​ ​Thanks for the great review. We are glad that our barbell exceeded your expectations. Again, thanks for the excellent review. Lift on!
My new favourite bar
All of my previous experience consisted of the barbells at a YMCA gym and/or my dad's old 1" classic garage bar. So it didn't have much competition - but still, the BOS Utility Bar was exactly what I was hoping for when I placed my order. I'm using it for core strength lifts (press, bench, squat, deadlift) and it has everything I was looking for. I love the diameter, knurling, and balance. I was looking to invest in something that I wasn't likely to outgrow any time soon - and this is it, for a great value. I highly recommend the linked review from "Garage Gym Lab" above. From my point of view, they have done a very thorough and accurate job of evaluating this bar.
09/12/2019
Bells of Steel
Hey Andrew, Thanks for the awesome review, this really made our day. The Utility bar was indeed carefully evaluated and tested. Again, thanks for the great review. Hope to see you again soon.
08/19/2019
Anonymous
US
Best Bang for your Buck!
Very good. Well constructed and good materials. Fit and finished 8/10 due to uneven bushing spacing with shaft cause the sleeve to rumble when spun but didn't seem to effect the performance of the bar much. Still smooth.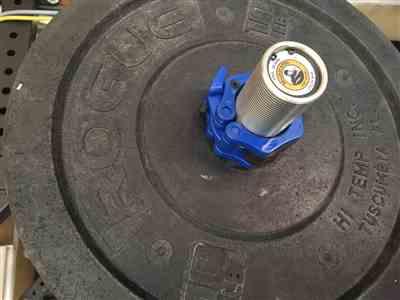 08/25/2019
Bells of Steel
Hey, Thanks for the good review. Our goal is to provide quality equipment at a very low price. Agan, thanks for the wonderful review.
Great Bar!
Only just really getting into weights, so i can't comment on flex or bounce or anything, but this bar seems great! Finish is great, knurling is ample but not too much - love it.
08/08/2019
Bells of Steel
Hey Adam, Thank you for the great review. The knurl of the Utility Barbell is designed to have a perfect grip without chewing your hands up. This bar is definitely built to last and we even have a 5-year warranty on this bar. Again, we are really thankful for the great review. Happy lifting.
A reliable, well rounded Olympic sized barbell for an awesome price.
Our next generation basic bar, the utility barbell is designed to be an all-around solution for bench press, squats, deadlifts and cleans. Here's why the utility bar is an excellent option for the well-rounded garage gym athlete and light commercial gyms.
The Specs
A generalist bar, it is designed for people who don't adhere to a particular strength sport and just love an excellent bar. With a 28.5mm diameter, it's just a tad thicker than the Olympic lifting standard of 28mm and a smidge thinner than the 29mm powerlifting standards. Brass bushings means the sleeves and no bearings makes for a smooth but not over rotation and an ultra secure snap ring is used to keep it all together. A medium-light knurl won't chew your hands up when power cleaning, but complimented with knurling in the middle means the bar has a better grip when squatting.
Featuring both Olympic and powerlifting marks, hand positioning is made easy for whatever movement you're doing that day. Lightly ribbed sleeves help keep your plates from shifting during your workouts.
Built to Last
There's a lot of claims out there to the weight capacity of a bar, but we back it up with testing. At 1,000lbs capacity and 190psi tensile strength, this bar will stay with you even as you grow and smash through future personal bests.
In addition to excellent quality materials, it's finished with a distinctive black zinc on the shaft and white zinc on the sleeves.
And to back it all up, it comes with a 5 year warranty.
Additional information
| | |
| --- | --- |
| Weight | 20 kg |
| Dimensions | 2 × 80 × 2 in |