Adjustable Kettlebell
$249.99
Save money and space with this essential tool: the adjustable kettlebell. Ranges from 12kg-32kg in 1 and 2kg increments.
Available on backorder
Customer Reviews
Filter Reviews:
kettlebells
quality
weights
bells
kettlebell training
advancement
cost
space
customer service
bell
08/29/2019
Anonymous
US
Solid Adjustable KB
We are loving the adjustable KB. Has the feel of a regular competition bell, but can't feel any shifting of weights or movement within the bell. Very solid construction, good handle feel.
Thank you for the great review. Glad to hear that our kettlebells lived up to your expectations. Again, thank you for this awesome review.
Better than expected
The kettlebells are well made. Very good quality. Well balanced too when you don't have the full weights in it. They are way better quality than what I expected. If you want to save space! These are just perfect.Customer service is on point too. Replies are fast and they are willing to go the extra mile to be sure you are satisfied.
Thanks for the review P.O.! These adjustable bells are incredible space savers and work great.Enjoy!
Ajustable Kettlebells
Great in all respects: customer service, delivery, quality, everyday use!!!
Thank you for the review Slava! We appreciate the honesty!
Adjustable Kettlebell
The experience has been great. I have a home gym and the Adjustable kettlebells save a lot of space, and gives me multiple kg to work with! Bells of Steel were great to work with and i am glad I used the them to purchase my Bells
Hey Kraig, thanks for the review! The adjustable bells are a huge space saver!
CP
07/18/2018
Chris P.
US
Great Adjustable Kettlebell
This is my second one of these bells. I wanted to do some double kettlebell training, and heavier lifts than 32kg. My first was purchased from a competitor, and I will say that the customer service I received from Bells of Steels was superior. They were responsive to my emails requesting updates and were generally professional. As they say in their description of this bell, the only reason you wouldn't want this over separate bells is if you need to change weights quickly, which is true. Changing both bells takes about 2:30, but having just two bells that adjust from 12-32kg is an insane value. The other nice thing about this bell is that it's shaped exactly like a competition bell, so it works for all lifts, not just swings. Highly recommended.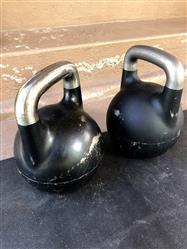 Hey Chris, thanks for the review! The range on the adjustable kettlebells saves you a ton of space and money as well! We were happy to provide you with our superior customer service!Happy lifting!
Save money and space with this essential tool: the adjustable kettlebell by B.o.S.
Why choose an adjustable kettlebell instead of a set?
Save space
One of the huge benefits of training with a kettlebell is it is so compact, you can take it almost anywhere. But as you progress in strength and skill, you will find yourself needing more and more sizes. The adjustable kettlebell can weigh 12, 14, 15, 16, 17, 18, 19, 20, 21, 22, 23, 24, 25, 26, 27, 28, 29, 30, 31 or 32 kilograms and can be easily adjusted to meet your needs.
Save money
Buying all those bells would tally up to nearly $1,000. By buying an adjustable set you save yourself at least $700, not to mention the shipping savings.
Why not to choose an adjustable kettlebell?
Although this is a fantastic tool, it is not recommended for gym owners who are teaching classes, or those who require a fast transition of sizes, as changing the weight can take a minute or two.
Limited Lifetime Warranty*
| Specs | |
| --- | --- |
| Competition standard handle | 35mm |
| 12kg shell adjusts to | 12, 14, 15, 16, 17, 18, 19, 20, 21, 22, 23, 24, 25, 26,27,28,29,30,31 or 32 kilograms |
| Tools | Comes with all tools needed to adjust the weight |
| Weight plates | 7 locked in with a screw |
| Design | Ergonomically designed competition style shell |
Additional information
| | |
| --- | --- |
| Weight | 70 lbs |
| Dimensions | 9 × 9 × 13 in |